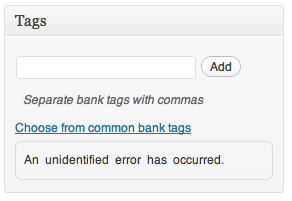 Working on a plugin today, part of which includes a custom taxonomy, and came across a snag today.
Got the taxonomy added, along with the custom post type it was associated with. The meta box showed up just like it should. And I could type in items for the custom taxonomy and have them stick.
The snag was when I tried to type one in. The dropdown for auto complete would only show a 0. And clicking on the most used tags link would show "An unidentified error has occurred."
Since this was the first time I've done anything with custom taxonomies, I was trying to make the fix way harder than it was.
The solution wound up being very easy. I just changed the priority on the add_action call that added my callback to admin_init to a lower number and it fixed it.