For the past couple of months I've been funneling saving money to pick up a couple more Canon Speedlites to get myself 4 lights so that I can start trying out wireless E-TTL setups. Last week UPS delivered my 4th flash, a 430ex and I was ready to go, or so I thought.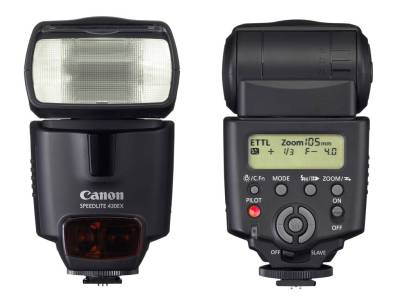 I took out my 4 flashes; a 550ex, a 420ex, and 2 430ex's; and set up a small makeshift studio. The second 430ex would fire when on the hotshoe and would fire when set as a slave, but I couldn't change any settings. All that was on the LCD was "ETTL" and a flashing "Zoom — mm". Worse, none of the buttons did anything. After a few minutes of cycling on and off I started hearing what I assume to be the zoom motor trying to move the lenses inside the flash head. Hearing the zooming was new for me since my other flashes are almost dead silent while zooming. So I guess that the zoom motor is bad and I'll be sending this little flash back to B&H Photo when they reopen after Passover. Fortunately B&H has one of the easiest return policies of any mail order place I've ever had to exchange equipment at.
This was the second 430ex that I've bought and had to ship back for a replacement. The first one blew a capacitor the first time I pushed the pilot button. It sounded like a gun going off in my hand which comes as quite a surprise when all I was expecting was a little light.
So out of 3 430ex flashes, I have one that works. Anybody else have that kind of luck with these flashes?
That said, the one that does work works flawlessly and I like it better than the 420ex it replaced.